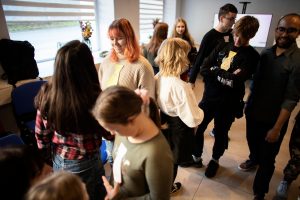 Źródło finansowania: Erasmus+
Czas trwania: 01/11/2021 – 01/09/2023



Projekt realizowany w partnerstwie z organizacjami z Hiszpanii, Szwecji oraz Holandii.
Oficjalne rozpoczęcie projektu nastąpiło w listopadzie 2021, lecz pierwsze działania zostały podjęte dopiero w kwietniu '22, co sprawiło, że również nieco zmienił się jego kontekst, bowiem było to już po rozpoczęciu wojny w Ukrainie, co również pozwoliło na nieco inne podejście do tematu.
Celem projektu jest opracowanie szkolenia dla osób pracujących z młodzieżą z zakresu użycia narzędzi cyfrowych w celu tworzenia nowych narracji migracyjnych wśród młodych ludzi (zarówno rdzenni i migranci), ale i również umożliwienie młodym ludziom, tak samo migrantom jak i rdzennej ludności wygenerowanie własnej narracji migracyjnej, promującej szacunek dla innych kultur, akceptację ludzi z innych krajów oraz zwiększenie ich poczucia przynależności do UE poprzez ponowne odkrycie jej europejskiego dziedzictwa kulturowego.
W listopadzie obyły się pierwsze warsztaty dotyczące migracji, w których uczestniczyli zarówno obcokrajowcy jak i Polacy. Spotkanie dotyczyło kreowania pozytywnej narracji migracji, ale i również przekazywało cenną wiedzę dotyczącą różnych zjawisk.
Następnie rozpoczęliśmy planowanie Europejskiego Śniadania dla zebranej grupy. Finalnie okazało się, że nasze śniadanie przerodziło się w kolację, w której wzięło udział około 40 migrantów zamieszkujących teren województwa świętokrzyskiego. Wydarzenie to odbyło się w grudniu zeszłego roku – miesiącu w którym wypada Dzień Migranta.
Rozpoczęliśmy również planowanie opracowania rezultatów intelektualnych, które mają powstać w ramach projektu.
Milab Magazine – zawierający krótkie wywiady oraz podcasty z migrantami,
Milab Academy – zawierające zbiór dobrych praktyk związanych z tematem migracji.
Na przełomie stycznia i lutego '23 odbyły się warsztaty mające na celu przygotować potencjalnych uczestników podcastów oraz filmików do wystąpienia w nich. W kolejnych miesiącach nagrywane były podcasty, w czerwcu wzięliśmy udział w spotkaniu podsumowujących w Hiszpanii.