Źródło finansowania: umowa partnerska, Erasmus+

]

ART ConnectiON Partnership for Creativity in the Field of YOUTH jest projektem strategicznym, w którym Regionalne Centrum Wolontariatu pełni rolę partnera, natomiast koordynatorem jest organizacja Asociación de Desarrollo Social Participativo IMAGINA z Hiszpanii. Pozostałymi organizacjami partnerskimi są Strauss APS z Włoch, Besiktas Municipality z Turcji oraz Instituto Educación Secundaria Valle del Sol z Hiszpanii.
Projekt rozpoczął się w listopadzie 2021 roku. Pierwsze spotkanie odbyło się w Maladze.
Ogólnym celem projektu jest włączanie cyfrowe osób z niepełnosprawnościami oraz mniejszymi szansami do bycia aktywnymi członkami społeczności. Założenia projektu powstawały w odpowiedzi na ich potrzeby, pojawiające się w czasie pandemii, kiedy to cały świat został zamknięty w sferze online.
Został zrealizowany jeden, lecz bardzo złożony rezultat intelektualny. Na podstawie diagnozy powstałej w wyniku wielogodzinnych rozmów z pracownikami młodzieżowymi, nauczycielami, czy samymi młodymi z niepełnosprawnościami powstała diagnoza dotycząca środowiska w jakim żyją, potrzeb jakie mają czy deficytów. Na tej podstawie został opracowany również Cookbook zawierający informacje o organizacji partnerskiej oraz przeprowadzonej diagnozie, ale co ważniejsze – ćwiczenia jakich można użyć w odpowiedzi na zdiagnozowane potrzeby.
Każdy partner miał do opracowania osobny temat, Regionalne Centrum Wolontariatu miało za zadanie opracować aktywności dotyczące kreowania treningu narracyjnego. Zbiór ćwiczeń oraz diagnoz został połączony w całość i stanowi swoisty podręcznik zawierający metodologie do pracy z osobami z niepełnosprawnościami w kontekście ich bycia online.
W maju odbyło się szkolenie dla pracowników młodzieżowych w Palermo. Z Polski uczestniczyły z nim dwie osoby, które miały okazję na sobie przetestować metody wcześniej wypracowane w ramach projektu. We wrześniu zaczęły się warsztaty dla osób z niepełnosprawnościami przeprowadzane na podstawie powstałego Cookbooka.
Przeprowadzono cykl spotkań w celu przetestowania metodologii, oraz podczas dwóch z nich zostały nagrane krótkie tutoriale wraz z komentarzem do ćwiczenia. Podręcznik został przetłumaczony na język polski. W marcu odbyło się wydarzenie upowszechniające oraz oficjalne zakończenie projektu, które zrealizowano w Turcji.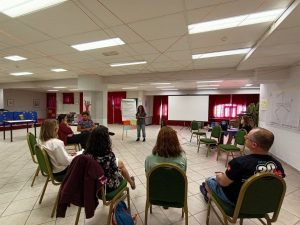 Projekt oficjalnie zakończył się z dniem 20.04.2023.